Canadian Drugstore comes from the same offenders as Online_Pharmacy
The web site looks like this screenshot. Click to enlarge it.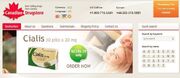 The Help Line phone numbers shown are
US Toll Free: +1-800-715-5341
Europe: +44-203-318-5981

If you call either of those numbers, a recorded message directs you to the web site contact form, without mentioning the web site by name.
Fake Credentials
Edit

Across the bottom of the web page, they display images that for a genuine pharmacy would allow you to click through to view the certificate. But because this is a fraud, just the image is displayed.
"CPA Approved" links nowhere, and is not defined.
They have no certification with the "Canadian International Pharmacy" (CIPA Rx). The CIPA Rx web site at https://www.cipa.com/ lists the 66 approved pharmacies. CIPA Rx allows you to view the approved list at http://www.cipa.com/certified-safe-online-pharmacies/ One site on that list, called candugstore.com, has both a genuine CIPA approval and a Pharmacy Checker approval. Certificate images on that site correctly click through to the certifier's web site. But that is not one of the Canadian Drugstore sites.

Similarly, there is no certification with the "Manitoba International Pharmacists Association" (WWW.MIPA.CA). They can be contacted at
103 - 1780 Wellington Avenue, Winnipeg, MB, R3H 1B3
Phone: +1 (204) 800-2089
Email: info@mipa.ca

Checkout
Edit
The checkout page is secure-checkout-247.com sponsored by registrar: GKG.Net, Inc. Its security certificate is issued by COMODO RSA.
Sponsoring Registrars
Edit
GKG.Net, Inc.
Edit
medicaltrustshop.com 

Hosting Concepts
Edit
onlinepharmacy-ca.com

PakNIC (Private) Limited
Edit
drugsfromcanada.com