Description of the Registrar
Edit
From https://www.gkg.net/contact/history.html
GKG.NET, INC. was founded in 1993. In late 1994 GKG.NET,INC. entered the Internet business as Global Knowledge Group (GKG) taking immediate advantage of the expanding Internet commerce of the World Wide Web.
Our Mission Statement:
To continue to develop and build GKG into the premier Internet Solutions company that equally values its customers, shareholders and employees by emphasizing excellence in service, corporate integrity, technical expertise and long-term vision as part of our corporate experience.

Founders:
Paul Marvin, CEO
Taylor Marvin, CTO
Anti-Spam Position
Edit
Official Position
Edit
GKG deals with abuse reports in these situations:
The content is physically hosted on our network, or
The domain is with GKG, the content is hosted anywhere, and the nature of the abuse is malicious in nature which can potentially affect the stability of private and public networks. Examples of these types of situations is the distribution of malware and phishing sites, or
The domain is with GKG, the content is hosted anywhere, and the nature of the abuse is inflicting obvious personal harm. Examples of this are not limited to the distribution of child pornography and sites that distribute sensitive personal financial information such as credit cards or social security numbers, or
Any site that is performing obviously illegal activities.
For any content that is NOT obviously illegal to us, we will refer you to the local authorities or to your own attorney to work within the legal system to make that determination.
Actual Behavior
Edit
GKG often disregards obvious evidence of fraudulent use of a domain name and defaults to the last condition above. In March 2016 GKG's founder and CEO Paul Marvin was served with a notice by ICANN concerning its failures to comply with the requirements of the Registrar Accreditation Agreement.
NOTICE OF BREACH OF THE RAA [1]
Registrar responsiveness
Edit
Showing all registrars including R01.RU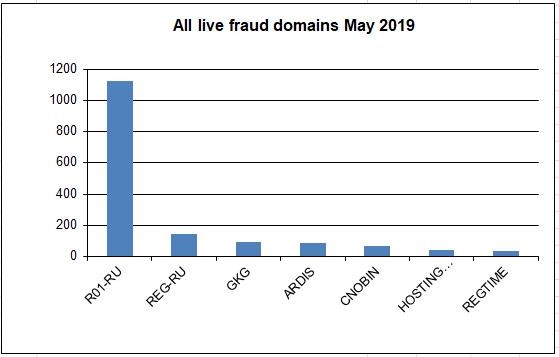 Showing all registrars excluding R01.RU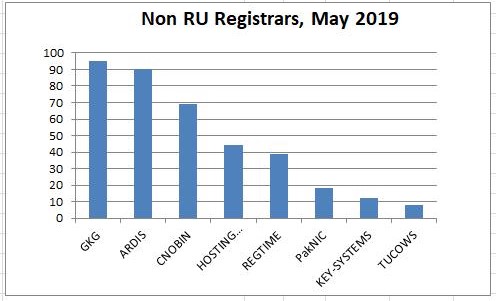 Piechart showing the crime sponsoring contribution by each registrar.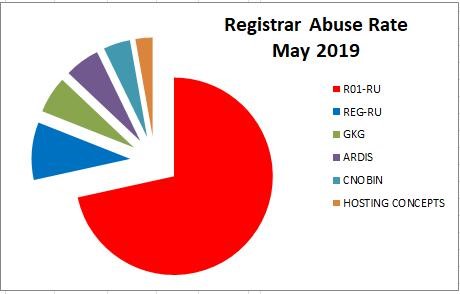 The comparison between this registrar and others can be seen on the graphs.
It shows how many domains have not been suspended by various registrars over the past year. The higher the column, the more domains are sponsored by the registrar.
Currently the most abused registrar is Russia's R01.ru. This registrar sponsors the vast majority (often over 85%) of the fraud domains used within the Eva Pharmacy group.
The second most abused registrar is Public Domain Registry PDR at 3%.
The next most abused registrar is China's Bizcn at 2%.
The next most abused registrar is Germany's Key-Systems at 2%.
The next most abused registrar is Canada's Tucows at 2%.
Next is Endurance at 2%.
Most registrars have been quick to terminate the service contracts with these cyber-criminals upon seeing the obvious evidence of fraud.
---
---
Examples of domains used for fraud
Edit
By loading any of these, the registrar can verify the brand, then establish the fraudulent use of the domain name by viewing the evidence that has been prepared for registrars and law enforcement. Note that some of these will be switched from one fraud brand to another.
See GKG_list
canadianrxmedsonline.com   CanadianPharmacy
prosales24x7.com       CanadianPharmacy
medsoffers.net  CanadianPharmacy

Removed For Fraud or Chargebacks
buycheapcialisonline.com        Online Pharmacy ClientHold  Dec 2016
buycheapcialisonline.info       Online Pharmacy ClientHold  Dec 2016
buycheapcialisonline.net        Online Pharmacy ClientHold  Dec 2016    

---
Suspended fraud domains
Edit
?
Common IP addresses
Edit
A quick way to verify these sites is to examine the hosting addresses. Many compromised hosts used for this operation during May 2017 were located at these IPs, primarily Russia, Turkey, Latvia and the Seychelles.
| - - - - - - - - - - - - - - - | - - - - - - - - - - - - - - - | - - - - - - - - - - - - - - - | - - - - - - - - - - - - - - - | - - - - - - - - - - - - - - - |
| --- | --- | --- | --- | --- |
| 91.242.163.166 | 95.84.156.43 | 217.195.60.211 | 46.29.2.193 | 62.112.8.135 |
| 51.15.145.121 | 46.29.2.192 1 | 77.81.111.122 | 175.45.128.19 | 75.98.230.254 |
| 88.150.227.68 | 94.199.48.30 | 81.171.7.156 | 91.230.121.99 | 31.31.204.161 |
Recent High use IP addresses from April 2017
Where to send abuse complaints
Edit
abuse@gkg.net
Additional Contact Information
Edit
Postal address
Edit
Correspondence & Payment address:
P.O Box 1450 
302 N Bryan Ave
Bryan, Texas 77806-1450
USA

Registration Information
Edit
Telephone and FAX
Edit
Telephone: 877-695-1790 or 855-875-6611
Fax: 281-617-5825
Related information
Edit
Pharmacy fraud operations
Affiliate program coordinator employing spammers
Sources for this article
Edit
Independent
Edit
Interview
Edit
Corporate
Edit
Facebook
LinkedIn
Company Homepages
Ad blocker interference detected!
Wikia is a free-to-use site that makes money from advertising. We have a modified experience for viewers using ad blockers

Wikia is not accessible if you've made further modifications. Remove the custom ad blocker rule(s) and the page will load as expected.