Todaynic is a registrar in China.
Anti-Spam Position
Edit
Official Position
Edit
http://www.todaynic.com/doc/agreement.php
Sections 18, 22, 24, 25, 26
Actual Behavior
Edit
In 2008 acted quickly and decisively to remove illegal sites. Providing evidence speeds the process.
Over a period of 2 weeks in late May, 2008, Todaynic acted decisively to clear a backlog of complaints.
An estimated 8,100 live spammed sites were rapidly removed across several different spam brands. In 2013 and 2014 this registrar has been unresponsive.
Registrar responsiveness
Edit
Showing all registrars including R01.RU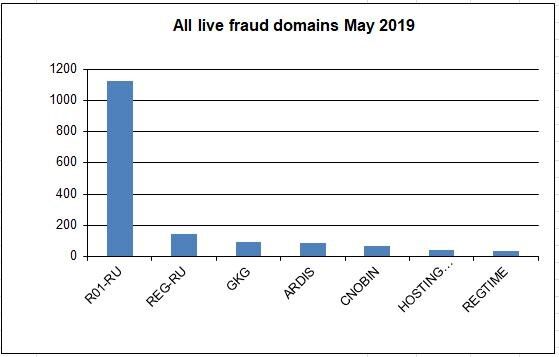 Showing all registrars excluding R01.RU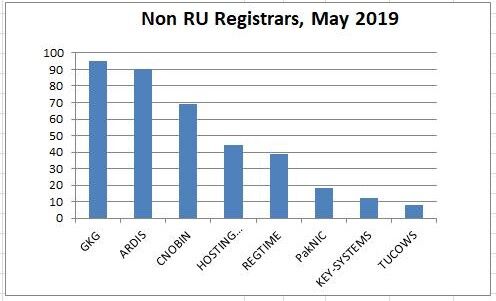 Piechart showing the crime sponsoring contribution by each registrar.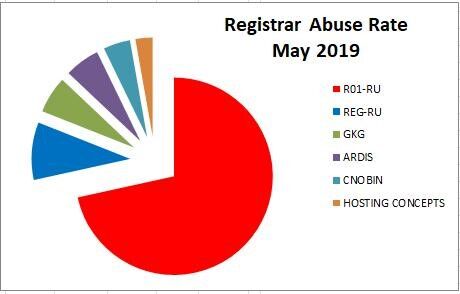 The comparison between this registrar and others can be seen on the graphs.
It shows how many domains have not been suspended by various registrars over the past year. The higher the column, the more domains are sponsored by the registrar.
Currently the most abused registrar is Russia's R01.ru. This registrar sponsors the vast majority (often over 85%) of the fraud domains used within the Eva Pharmacy group.
The second most abused registrar is Public Domain Registry PDR at 3%.
The next most abused registrar is China's Bizcn at 2%.
The next most abused registrar is Germany's Key-Systems at 2%.
The next most abused registrar is Canada's Tucows at 2%.
Next is Endurance at 2%.
Most registrars have been quick to terminate the service contracts with these cyber-criminals upon seeing the obvious evidence of fraud.
---
Description of the Registrar
Edit
Sample illegal domains
Edit
These domains listed below are all part of the pharmacy fraud network centered in Russia, known as EvaPharmacy. They were all live at March 26, 2015.
Click on any heading to see the evidence relating to each fraud.
drugstoreonline24h.com
refillnovember.com
healthcaremallcanada.net

drugstoreonline24.com
 

Common IP addresses
Edit
A quick way to verify these sites is to examine the hosting addresses. Many compromised hosts used for this operation during April 2018 were located at these IPs, sequenced by frequency
- - - - - - - - - - - - - - -
- - - - - - - - - - - - - - -
- - - - - - - - - - - - - - -
- - - - - - - - - - - - - - -
- - - - - - - - - - - - - - -
95.84.156.150
82.199.101.125
185.128.41.156
78.107.235.212
176.32.32.219
83.177.135.78
46.183.216.140
185.219.83.200
109.236.81.142
109.236.81.144
179.43.190.101
179.43.190.102
185.217.0.156
185.36.81.71
185.36.81.95
188.225.18.170
200.7.96.46
173.224.117.236

Recent High use IP addresses from 2018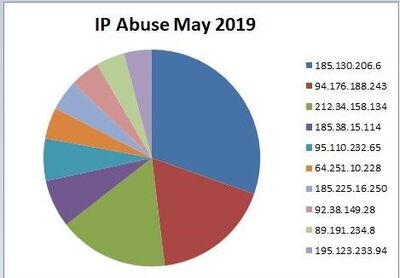 Where to send abuse complaints
Edit
info@todaynic.com, service@todaynic.com
Additional Contact Information
Edit
Postal address
Edit
Address:
02 7/F TRANS ASIA CENTRE
18 KIN HONG STREET
KWAI CHUNG N.T 

Registration Information
Edit
Telephone and FAX
Edit
Department:
+852-35685366  (Sale Advisory)     
+852-35680970  (Technical support)      
+852-35685366  (Complaint and suggestion)
Fax: 	+852-26120931

Related information
Edit
Pharmacy fraud operations
Affiliate program coordinator employing spammers
Sources for this article
Edit
Independent
Edit
Interview
Edit
Corporate
Edit